Unusual things to do in Valencia
Unusual things to do in Valencia Valencia has a lot of attractions, but always staying on the main path might get a little bit boring after a certain time. We have some creative ways to spend your time in and near the beautiful city of Valencia. Watch out for these unusual things to do in Valencia and take pictures your friends will envy you for.
What is the craziest event of our unusual things to do in Valencia?
If you really want to go crazy, we recommend taking part in the Tomatina. Like the name already points out, a lot of squishy tomatoes are involved. This happy event is a party for thousands of people, mostly of them being tourists, who have a tomato fight on the Plaza del Pueblo of a little town called Buñol only 30 kilometres away from Valencia.
This crazy tomato festival takes place on the last week of August and starts at 10 o'clock with the ham pole climbing. Participants try to be the first one to get hold on the ham. This ham is on top of a 7 meters high tree trunk. Then at 11 o'clock, the real fun begins. You are now allowed to throw tomatoes at the people around you. The fun lasts for one hour, after that, throwing tomatoes is absolutely forbidden and the cleaning starts. The participants are cleaned by the garden hoses of the neighbours and the streets are cleaned by the participants. This is a code of honour people stick to every year.
The Tomatina is one of the unusual things to do in Valencia which neither has a religious, nor a political background. Its aim is to add fun and craziness to people's lives. If you want to join this joyful event, buy a ticket for 10 euros. These tickets are limited, only 15,000 participants are allowed to take part in the Tomatina.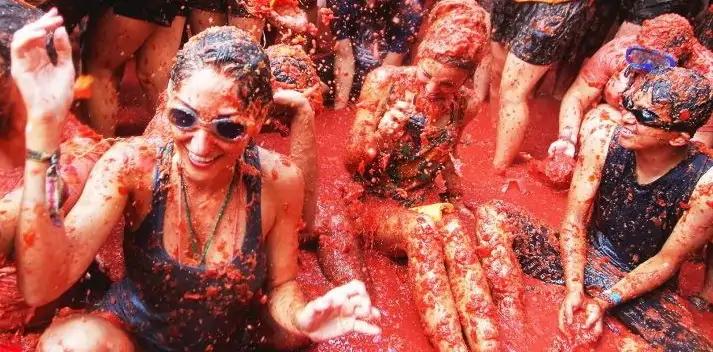 A very unusual place in the city of Valencia
You are a cat lover and like to have a delicious coffee with a cake or a cookie? Then you shouldn't miss El Passatge del Gats in Calle del Turia of the Botanico quarter. This cat restaurant cooperates with the cat rescue organisation Adaana Association. Rescued cats can find a temporary home at the café until the right human stops by for a coffee and leaves with a cat. But even if you are not on holiday to find a friend for life, you can enjoy the calming influence of the cats and the furry but warm company. The café has a cosy interior, so that humans and cats will feel at home equally.
Since this place is often busy, it is absolutely useful to make a reservation prior to your visit. You can do so online or by telephone. Prices range from three euros for 30 minutes with the cats up to eight euros for one and a half hours including cake and a drink. The cat is optional.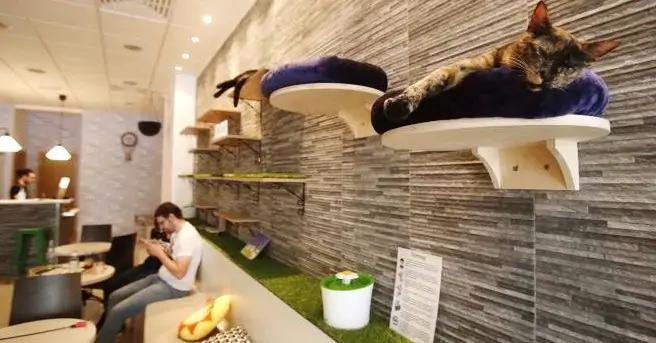 The most unusual thing to do in Valencia during winter
Ok, going ice-skating is not the first thing that comes to mind when you think of the sunny city of Valencia. But ice-skating is an option in this vibrant city, and it is our recommendation for one of the most unusual things to do in Valencia, especially during wintertime.
You can find an ice-ring at Quart de Problet which offers special events for birthdays additional to their daily services. While you are having an ice-cold birthday party, you can warm yourself up with some activity and a nice meal afterwards, which can be served on the skating ring. Call the Fun on Ice centre for more information or just drop by during their common opening hours.
Christmas time is very special in Valencia. You will find the Plaza del Ayuntamiento decorated with lots of lights. In the middle of the square, a huge ice-skating ring will be installed and offers shoppers and tourists the opportunity to have some workout and fun in a fairy-tale-like atmosphere.
The Agora, which is part of the City of Arts and Sciences, offers an ice-skating-ring as well. This wonderfully illuminated ice-ring can be used for 7 euros an hour. So you see, Valencia is not only a place for beach and sun, but also for a romantic and festive winter season!
Interesting places in Valencia
A wine tasting tour shouldn't be missed on your list of activities during your stay in Valencia. But what about a very special one taking place on a winery 75 kilometres away from Valencia? This tour is special, because you will see the wine growing from the sky. You will see the striking landscape surrounding Valencia from a helicopter in one hour and have a local lunch afterwards. To always remember this awesome experience, you will be provided with a CD of this flight and you can take home some photos. All in all, this special wine tour will take 5 hours, so be prepared to spend a nice and adventurous day in nature.
But also the city of Valencia itself offers highlights. One of the most interesting places in Valencia is the narrowest house of the city, of whom some claim that it is the narrowest house of the world. It can be found in the old city, at the Plaza Lope de Vega and can be reached on foot or while you are enjoying our bike tour of the old city. It really is very thin and squeezed in-between two normal sized houses. It is very strange to look at, since the house is not much wider than its door. All in all, the building is 107 centimetres wide. This narrow house has 5 floors, which blend in to its surrounding perfectly. The old building was restored in 2007 and now is a real gem to look at.
Thanks to the connection to the upper floors of the building next to it, people can live in this now enlarged house. If you visit the neighbouring tapas bar La Estrecha, you can enter the building as well. In this bar you will find the original floors and some very interesting historical pictures of the building. Like the Tardis, it is much bigger on the inside!
Watching a movie differently
Valencia is the second biggest city of Spain, so surely it offers movies in original languages, most of them provided with Spanish subtitles. But you are in search of the most interesting places in Valencia, Spain, aren't you? So you should visit the Autocine Star.
Situated at the Pinedo beach, you can drive your car to this very special place and enjoy a good movie on a big screen without the noises of other people eating popcorn. Pinedo beach is not far from the city centre of Valencia and next to the harbour. Prices are three euros for a car and additional 6 euros per person, but the Autocine Star offers many cheaper specials as well. Their webpage informs about family days on Sundays and reduced prices on Wednesdays. So enjoy a nice evening on the beach in a very special way!